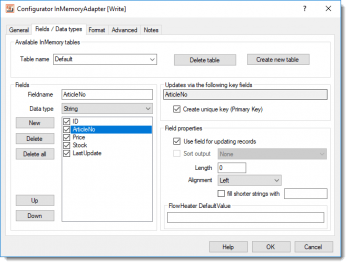 InMemory Adapter - for fast data processing/enrichmentThe new InMemory Adapter is considered an absolute highlight. The new InMemory Adapter was developed to take full advantage of the trend of increasingly powerful computers with more and more main memory, making the processing of intermediate data possible, completely in memory.
With the InMemory Adapter as many "internal" tables can be created as required, which can then be populated, enriched and transformed while running a Definition and of course subsequently used as input.
Tasks that previously required a temporary database table can be easily converted to using InMemory tables. As a demonstration the example "Merging CSV and Excel data using an SQLite database" is adapted to use InMemory tables, incl. video example.
Advantage: As processing is completely performed in main memory it is significantly faster than was previously possible.
The use of InMemory tables is in principle very simple. Insert the Adapter and if necessary define a name for the table. Fields can either be included in advance or further fields simply drawn from the field list in the Adapter by drag & drop. Optionally the data types can be modified for specific needs, although normally the default FlowHeater data type STRING should suffice.
On the READ side the data source of InMemory tables presented can also be filtered by a WHERE clause in a similar way to SQL tables. Naturally, the data can also be ordered in an alternative sort sequence.