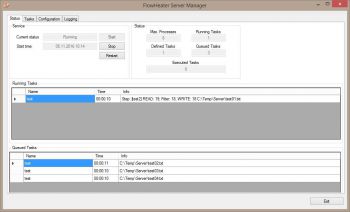 FlowHeater Server ManagerAt last, the anxiously awaited first FlowHeater Server Version has now been released. The features of FlowHeater Server include running scheduled and event triggered automated tasks without the need for user login. High levels of flexibility were the focus during development, for this reason not only can FlowHeater Definition files be executed, there is also support for EXE files as well as scripts with extensions CMD, BAT und PS1 (=Power Shell).

FlowHeater Server is scalable from the "lowly" workstation to the high-performance server with multiple processors.

FlowHeater Server is automatically licensed with a valid Company License (Standard or Runtime) and so can be used for free.