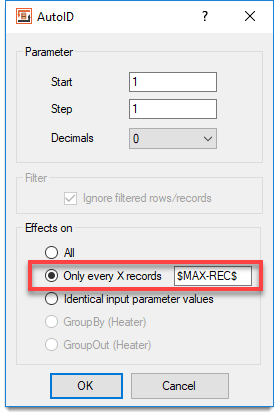 Increment only every X recordsAs of this version of FlowHeater you are able to establish a counter using the AutoID Heater that only increments when a specified number of records/rows have been processed. This makes it relatively straightforward to handle very large exports, for example, where the output must be split into multiple CSV files (every X records start a new export file). Naturally this option supports the use of FlowHeater Parameters. This way the maximum number of rows in a CSV export file can be dynamically set by a runtime parameter in Batch Mode.
e.g. FHBatch.exe /SetParameter MAX-REC=10000 export-csv.fhd
In order for this to function properly the counter generated must of course be saved in another FlowHeater Parameter and this Parameter is then used as a placeholder in the output filename of the TextFile Adapter.
e.g. export$FILEID$.csv
This will trigger the Textfile Adapter to output a new file automatically each time the AutoID counter value is incremented.

There is a short video example of this included in the AutoID Heater documentation.