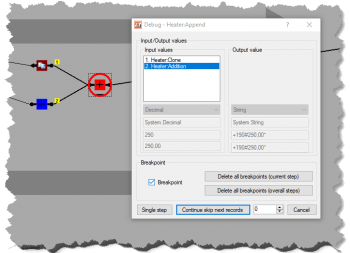 debugging - troubleshootingTroubleshooting and error tracing is greatly simplified by this improvement. Finding out why a field is not formatted as wanted or a result value is not what was expected has cost a lot of time in the past. This tedious task can now be substantially reduced using the new single-step processing (Debugging of Definitions) feature.
If a Definition does not run as expected you now only need to set a stopping point (Breakpoint) in the related Heater (function) and when the Definition is run in test mode processing it will stop at precisely this point and you can calmly inspect and analyse the input and output parameters, data types involved and further information about the process. Moreover, it is possible to proceed and inspect the next invocation of the Heater (function) for further analysis.
To activate a Breakpoint, hover the mouse over the Heater in the Designer, open the context menu with a right click and select the Breakpoint option. Thereafter the Heater is displayed with a dashed red circle in the Designer. Check it out for yourself. You will learn to love this function.