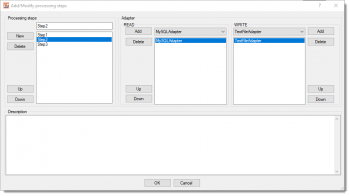 Several processing steps in a DefinitionAs of this version FlowHeater now supports several processing steps within a single Definition (.fhd file). Any number of processing steps can be added to a Definition, which are then run consecutively in the sequence given.
Tip: FlowHeater Parameters are "globally" available within a Definition. This makes a number of interesting new options available for processing import/export data. For example, it is possible to record specific data from an upstream processing step in FlowHeater Parameters and use these values in a downstream processing step, e.g. as filter criteria.
Note: Heaters/Functions that are configured to fire "at the start" or "at the end" of the run now apply to each processing step! For example, if a script or SQL command must only be run at the very end of a Definition then this script (.NET Heater) or SQL command (SQL Heater) should only be defined in the last processing step.
Restrictions: At present several processing steps is only supported when using "Mass Data Mode". The use of several processing steps is not presently supported with "Memory Mode", and any attempt to use it this way will terminate with an error report.
Preview of later development: We offer here a brief outlook on future functionality that will profit from this new feature. The development of an "internal" memory-like Adapter is planned, using which will simplify the assembly, merging and processing of data from several sources that can then finally be exported.