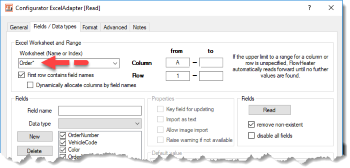 Excel Adapter - multiple sheet supportIt is often the case that several worksheets have to be processed from an Excel workbook. Until now, these had to be addressed more or less manually using the Designer or by means of the Batch Module with a static CMD script file. If Excel worksheets were added or removed from the workbook, the CMD script had to be manually adapted to the new conditions before running.

This tedious manual effort has largely been eliminated. As of this version, when specifying the worksheet to be processed in the Excel Adapter, asterisk can be used as a wildcard operator. This means that by simply specifying "*", all worksheets in the Excel workbook will be processed, or for example "Report_*" to select only certain worksheets that match this wildcard pattern.

The data of the individual Excel worksheets are read as if they were one contiguous worksheet. The individual worksheets must of course share the same format. The System Heater can be used to discover the current worksheet name during the Excel export. Thus, the individual Excel worksheets can be recognized and classified during the import process.