Adapter XML
Note: The XML Adapter is currently undergoing beta testing. At present only "flat" XML files can be processed. Working with more complex XML files is not yet possible, but this will follow in a later version.
Warning: Please make sure you retest any XML import/export Definitions you create now with future versions of FlowHeater. It is possible that later versions will require additional configuration parameters that may involve adaptation. We will try to minimize such changes and thank you for your patience.
General tab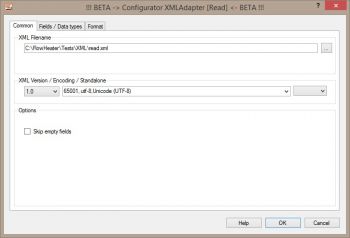 XML file nameHere you identify the XML file to be processed. The path specified can be relative or absolute. There is no support for wildcards such as *.xml here. If you want to process several XML files in a folder you need to use the Batch Module with the option "/ReadFileName *.xml".
After you have selected an XML file on the READ side, an attempt will be made to read in the structure and the XML elements detected will be shown under the "Fields / Data types" tab. The following XML types are supported.
Nodes
Attributes
CDATA
Comments
By adjusting "XML Version / Encoding / Standalone" you can influence the XML Declaration.
Note: The "Standalone" attribute is only written to the XML file, DTD is no longer supported.
XML versions 1.0 and 1.1 are supported. With Encoding you determine the Codepage with which the XML file is to be interpreted or for which Codepage the XML file is to be written.
Fields / Data types tab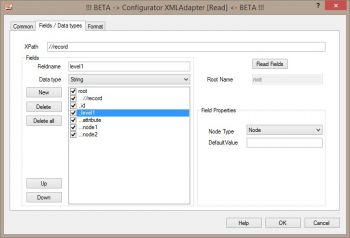 XML nodes and attributesNote: This tab is being adapted specially for the XML Adapter. The aim is to completely read in the XML file and by simple referencing to select which part of the XML structure should be processed. At present only the structure of the first available node is recognized and displayed for the associated record. However, by manually entry of XPath, other nodes in the XML file can be read in for processing.
For an XML export you can also specify XML subnodes. Mark the field in the field list and then click the "new" button.





Attribute tab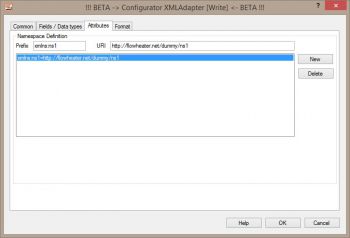 This tab is only available on the WRITE side. With this tab you specify details of the XML Namespace to use. Using the "Fields / Data types" tab you can allocate the individual fields of the XML Namespace defined here. All namespaces defined are written as XML output regardless of whether or not their fields are used.








The following examples of using the XML Adapter are available