XML Adapter option to insert or update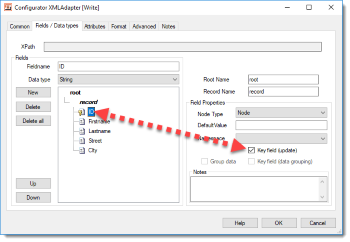 XML Insert/Update - key fieldsThis version extends the XML Adapter with another powerful feature. It is now possible to append content to existing XML documents (INSERT) or to update existing data using defined key fields (UPDATE), in a similar manner to SQL. Of course, the XML Adapter also supports UPDATE using a unique key composed of multiple XML nodes/fields. By using this function some fairly complex XML documents can now be generated in a series of processing steps.




Release notes for version 4.2.3 on March 6, 2021
Excel Adapter – fields not explicitly set are ignored during an update
Previously, when an UPDATE was performed on an Excel workbook, any fields that should not be updated needed masking out in the Configurator of the Excel Adapter. As of this version, unfilled fields are automatically excluded from the update and denoted "FH: [not set]" in the result display.

Warning: So that older versions continue to function without surprises, this feature only takes effect when used with a Definition created or saved by the latest FlowHeater version.


RUNTIME Designer – Executing in Test Mode
When a RUNTIME Definition is created using the FlowHeater RUNTIME Designer, you can now optionally specify whether the Definition can also be executed as a test run by your customers in "Test Mode".

Further enhancements
Corrections (bug fixes)
SQL Server Adapter: "set DATEFORMAT" is now only applied on the WRITE side. With the introduction of "User-defined SQL statements for connection initialization" in version 4.2.2, some of the date datatype CAST occasionally encountered an error message during export of SQL Server data sources.


XML Adapter: Problems regarding a partially truncated ROOT node display in the Configurator of the XML Adapter are now fixed.


Designer: Error when saving a read-only Definition is now corrected.