Copy and deactivate processing steps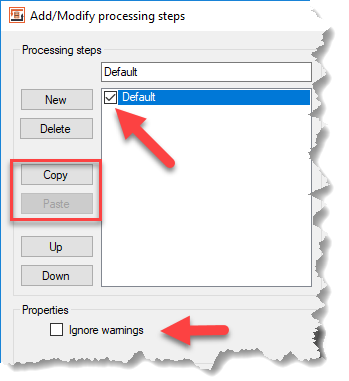 modify processing stepsAs of this version, processing steps can be copied and deactivated. As copied processing steps are intermediately saved in the clipboard, processing steps can be copied from any other Definition. It is now also possible to disable warnings arising from individual processing steps.
Release notes for version 4.2.0 on August 29, 2020
Other improvements
Batch with new runtime options
The Batch Module has been extended with three new runtime parameters. The /ExecuteSteps option can now be used to specify which processing steps of a FlowHeater Definition are to be executed. This makes it possible to skip processing steps during batch processing. It is also possible to reactivate processing steps that were actually deactivated.
There is a further simplification for holders of a company license. It is now possible to use the Batch Module over the company network (domain) without explicit license activation of the workstation. To enable this an execution key must have been generated in advance using a licensed workstation with /CreateExecuteKey. Provided this execution key is thereafter passed via /ExecuteKey the Batch Module runs without further activation or restriction on any computer of the same Windows domain. The only precondition is an active Windows domain logon.


TextFile Adapter – optimizations for column delimitation using fixed widths
The Configurator of the TextFile Adapter now displays the calculated position index (FROM - TO) when processing text files with "fixed column width" for each column. This makes it easier to compare the positions with a received data record description.


Database Adapters – warning when importing a schema when changes are present
If the database field definitions / schema information of an already created Definition is read in again, a warning is now displayed if the settings with respect to update key fields or auto increment fields have changed.


Corrections (bug fixes)
Batch Module correction for the transfer of encrypted parameters using the /Crypt and /SetParameter options