Dynamic storage of Parameters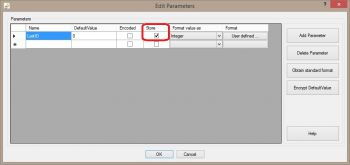 Dynamic storage of ParametersHow can we setup import/export Definitions that when run will automatically process only newly added records/rows? This is something that has often been asked, yet only with a relatively complicated workaround was it possible. In this version of FlowHeater a powerful function now extends the Parameter feature that makes it possible to store the last used value of a Parameter automatically and restore this for use in the next run. This enables the definition of simple filter conditions or the construction of dynamic SQL WHERE clauses that only select new records.
Release notes for version 3.5.1 on November 15, 2014
More changes
TextFile Adapter with automatic masking of CSV string delimiters
The way in which FlowHeater handles occurrences of the CSV string delimiter character within the data itself can now be specified completely in the Textfile Adapter Configurator. The standard method when creating a new Definition is revised as follows.
On the READ side: the masking of CSV string delimiter characters (doubled or quoted) is automatically stripped – two CSV string delimiter characters that follow one after the other collapse into one.

On the WRITE side: should a CSV string delimiter character occur in the content of the CSV column it is automatically masked (doubled or quoted) – one CSV string delimiter character becomes two.
Note: existing Definitions are not affected by this change, the Textfile treatment of their CSV string delimiter characters continues as originally defined.
Improved handling of Heaters (functions)
Large data import/export Definitions can become rather unwieldy and confusing with so much detail. Especially when lots of the same Heater (function) are used in the Designer and while running a warning or error is reported and appears in the Test and Run popup window, locating the Heater (function) responsible for the error can sometimes prove problematic. Now there are improvements to help with handling Heaters (functions).
The following improvements have been implemented
Copying of Heaters (functions) via the clipboard.


Visual indication of the Heater (function) affected when a runtime error or warning occurs. The last warning for the Heater can be revealed with the ToolTip feature.


Deleting a Heater (function) retains the connecting pipe.


Indication of the last active Heater (function).